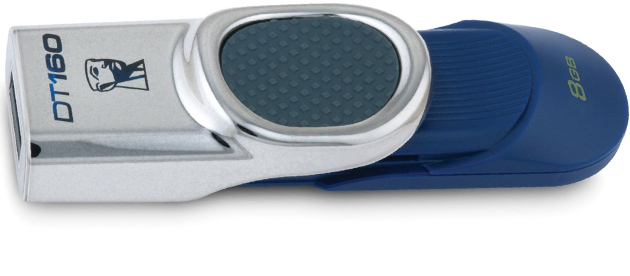 DataTraveler Family - USB Flash Drives
Kingston Technology's DataTraveler 2.0 USB Flash drives put portable flash memory in anyones hands. Reliable and easy to use, DataTraveler is the choice of corporations and consumers alike for securely storing, carrying and transferring important data, favourite songs, photos and more. Go across country, across town or across platforms with data at your fingertips.

With a range of models, features and capacities to choose from, DataTraveler is also customisable with a logo and is backed by a five year warranty and free, 24/7 tech support. Find the right match for you from our complete line of DataTraveler USB 2.0 solutions.
| | |
| --- | --- |
| | Kingston everyday USB Flash drives put portable storage in everyone's pocket. |
| | For those who demand more from their storage companions. |
| | Each drive in this range comes with AES hardware encryption and is hacker proof with strong password protection – making them the ideal choice for enterprise/corporate users. |
| | The perfect solution for personalised, portable storage. |
Everyday Storage
Kingston everyday USB Flash drives put portable storage in everyone's pocket. Reliable and easy to use, they are a great solution for carrying and transferring a users favourite songs, photos, videos, documents and so much more. Available in a wide range of colors, shapes and sizes they are the perfect choice for every day users.
DataTraveler Generation 3 (G3)
Kingston Technology's DataTraveler G3 USB Flash drives are the best way to store, carry and transfer files. Available in multiple colours and capacities, they are an affordable storage companion for everyday use. Available for the Personalisation program, DataTraveler G3 can also become a great promotional tool.

DataTraveler 100 G2
DataTraveler 100 G2 is a stylish black drive built with simplicity in mind, allowing you to focus on your data. High quality components maintain the legendary Kingston reliability and the USB connector is safely housed inside the sleek and durable case.

DataTraveler 101 G2
The Kingston® DataTraveler® 101 Generation 2 (G2) is here! This convenient storage companion lets you take all of your data to your home, office, school and anywhere you travel. Now with urDrive, it gives you a better way to look at your data while combining cool features to make it your own.

DataTraveler 102
Introducing Kingston's DataTraveler® 102 for quick and convenient storage, sharing and transferring of data. Available in four fun colours with capacities up to 32 GB, the new DataTraveler 102 can store your favourite photos, music, school assignments and reports.

DataTraveler 160
Kingston's DataTraveler® 160 USB Flash drive combines functionality with a capless design that features chrome and rubber coating for a premium look. The rubberized thumb grip makes it the easiest-to-use retractable USB Flash drive on the market. The retractable case protects the connector, providing durability and convenience.

Mid-Range
For those who demand more from their storage companions, we've put together a special range of premium drives. Each drive in Kingston Mid-range range offers something extra, whether it be exceptional transfer speeds, high capacity storage, data protection or indeed all of these combined.


DataTraveler 200
DataTraveler® 200 USB Flash drive offers enormous space for your data which can be carried with you anywhere, anytime. It will also be safeguarded by Password Traveler and easily accessible thanks to the fast transfer speeds.

DataTraveler 310
DataTraveler® 310 USB Flash drive is the latest development in the high capacity drives market, with an enormous capacity of 256 GB. It allows users to take more of their digital data everywhere they go, keep it safe and access it in a fast and convenient way.

DataTraveler 410
Kingston Technology's DataTraveler® 410 is a fast, password protected USB Flash drive. Available in capacities up to 32GB, it features a convenient, capless swivel design.

DataTraveler Locker
Kingston's DataTraveler® Locker features hardware encryption to safeguard private data. Keep sensitive and personal documents for your eyes only.
DataTraveler Ultimate 3.0
Kingston's DataTraveler® Ultimate 3.0 features the latest technology for USB Flash drives, making it ideal for early adopters who want to take advantage of all the performance improvements offered by USB 3.0 right away.
Enterprise/Corporate
For many of Kingston corporate customers it's not only speed that's important, but also the need to keep data out of the wrong hands. Each drive in this range comes with AES hardware encryption and is hacker proof with strong password protection. For ultimate security the DataTraveler 5000 even comes with XTS encryption mode, superior to any other available on the market! Combine these features with high performance and rugged waterproof casings and you have a range of drives that are fast, durable, reliable and incredibly secure.
DataTraveler Vault - Privacy Edition
Kingston's DataTraveler Vault - Privacy Edition (DTVP) is TAA-compliant and assembled in the U.S. This ultra-secure, waterproof drive encrypts 100 percent of your data with 256-AES hardware-based encryption and protects it with an enforced complex password.

DataTraveler 5000
Kingston's ultra-secure DataTraveler® 5000 USB Flash drive is FIPS 140-2 Level 2 certified and features 256-Bit, hardware-based AES encryption in XTS mode. Using elliptic curve cryptography encryption algorithms (ECC), it meets the Suite B standards approved by the U.S. Government.