AMD RYZEN™ 5 1600X PROCESSOR

AMD RYZEN 5 1600X CPU DONOSI VIŠE JEZGRI I NITI ZA ISTINSKI DOŽIVLJAJ IGRANJA IGRICA, KREIRANJE RAZNOLIKOG SADRŽAJA I PRODUKTIVNOST APLIKACIJA.
Vrhunsko igranje i brži rad uz nevjerojatno brzu izvedbu koja se temelji na novim karakteristikama koje mijenjaju računalnu industriju.
BUY ONLINE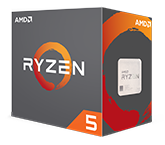 SNAŽAN
Do 6 jezgri/12 niti za ultimativnu izvedbu i gaming doživljaj
MEGA-MULTITASKING
Igraj, dijeli sadržaj i radi simultano – s lakoćom
EFIKASAN
6-jezgreni procesor za korisnička računala s najmanjom potrošnjom energije na svijetu
INTELIGENTAN
Vodeća inteligentna mašina koja se prilagođava Vama.
Kontaktirajte ASBIS Prodajni tim za specijalnu ponudu AMD Ryzen 5 1600X procesora.

AMD Ryzen 5 1600X recenzija: najznačajniji gaming CPU koji AMD do sada proizveo.

Ryzen 1600X u kombinaciji s odgovarajućom matičnom pločom može biti pravi pogodak, čista vrijednost i odličan rezultat rada.

AMD [Ryzen 5 1600X] nudi 6 jezgri i 12 niti potencijalno 200% više u broju niti i 50% više jezgri, iako na 10-15% nižih instrukcija po satu.

Ono gdje se Ryzen 5 1600X najviše ističe je kodiranje i multi-thread zadaci. AMD cilja na gaming streamere. Logika je vrlo jednostavna, s Ryzen proizvodima možete biti posvećeni stream kodiranju, a još uvijek ostane dovoljno CPU snage za igre. Kreatori različitih sadržaja također imaju benefita zahvaljujući prednostima koje nude dodatne jezgre i u svojoj cjenovnoj kategoriji, jednostavno nemate se na šta požaliti posebno ukoliko niste spremni na prelazak na 8-jezgreni procesor. I za radne stanice je također izvrstan omjer cijene i karakteristika, te će se R5 1600X i tu odlično uklopiti.

AMD Ryzen 5 1600X nije samo pristupačni čip za gamere i media kreatore, već je izvrstan paket koji postavlja računarstvo s više jezgri na značajno mjesto kod korisnika.


1. AMD's product warranty does not cover damages caused by overclocking, even when overclocking is enabled via AMD hardware and/or software. GD-26
2. ​Statement of "future-proof" refers to support of current and upcoming technology standards including 14nm FinFET process technology, DirectX®12 and Vulkan™ API support, new I/O technology including DDR4, USB 3​.1 Gen 2, and NVMe, and experiences such as VR. "Future-proof" statement is not meant to serve as a warranty or indicate that users will never have to upgrade their graphics technology again. Support of current and upcoming technology standards described above has the potential to reduce frequency of CPU upgrades for some users. GD-104.
3. AMD defines premium processor cooling as a combination of ambient temperature and thermal solution that results in processor temperatures below 60 degrees Celsius while the CPU is processing the system workload. WTH-5
The Elder Scrolls Online: Morrowind © 2017 Bethesda Softworks LLC, a ZeniMax Media company. Developed in association with Arkane Studios. Prey, Arkane, Bethesda, Bethesda Softworks, Zenimax and related logos are registered trademarks or trademarks of Zenimax Media Inc. In the U.S. and/or other countries. All Rights Reserved. All other trademarks or trade names are the property of their respective owners.
© 2017, Advanced Micro Devices, Inc. All rights reserved. AMD, and the AMD Arrow logo, Ryzen and combinations thereof, are trademarks of Advanced Micro Devices, Inc.