INFINIDAT, vodeći neovisni pružatelj rješenja za pohranu podataka, najavio je da je tvrtka od strane Gartner Inc. dobila vodeću poziciju u rasponu diskova za opće namjene na Magic Quadrant 2018. Prepoznavajući potpunu viziju i sposobnost izvršenja INFINIDAT-a, analitičari Gartnera ove su godine stavili INFINIDAT na višu poziciju radi Kompletnost i sposobnosti izvođenja osovine, te smjestili u kvadrant lidera. Prema Gartnerovoj metodologiji istraživanja, "Čelnici se dobro bore protiv njihove trenutne vizije i dobro su pozicionirani za u buduće". * INFINIDAT je također postigao visoke ocjene u Gartner Peer Insights, prikupivši 136 recenzenata i prosječna ocjena 4,9 od 5. 10 studenog, 2018.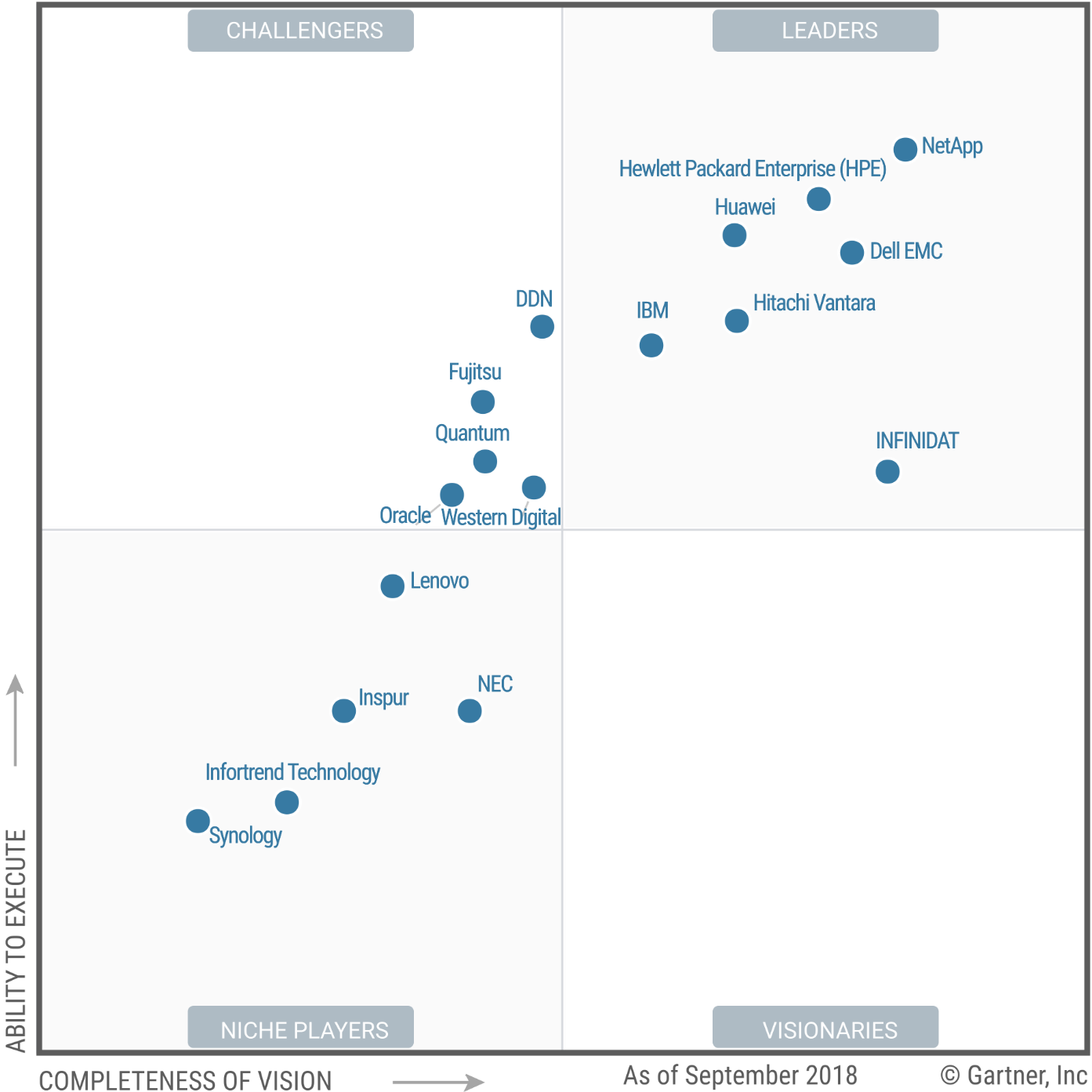 Možete usporediti INFINIDAT-ovu poziciju na Gartner 2018 s Gartner 2017.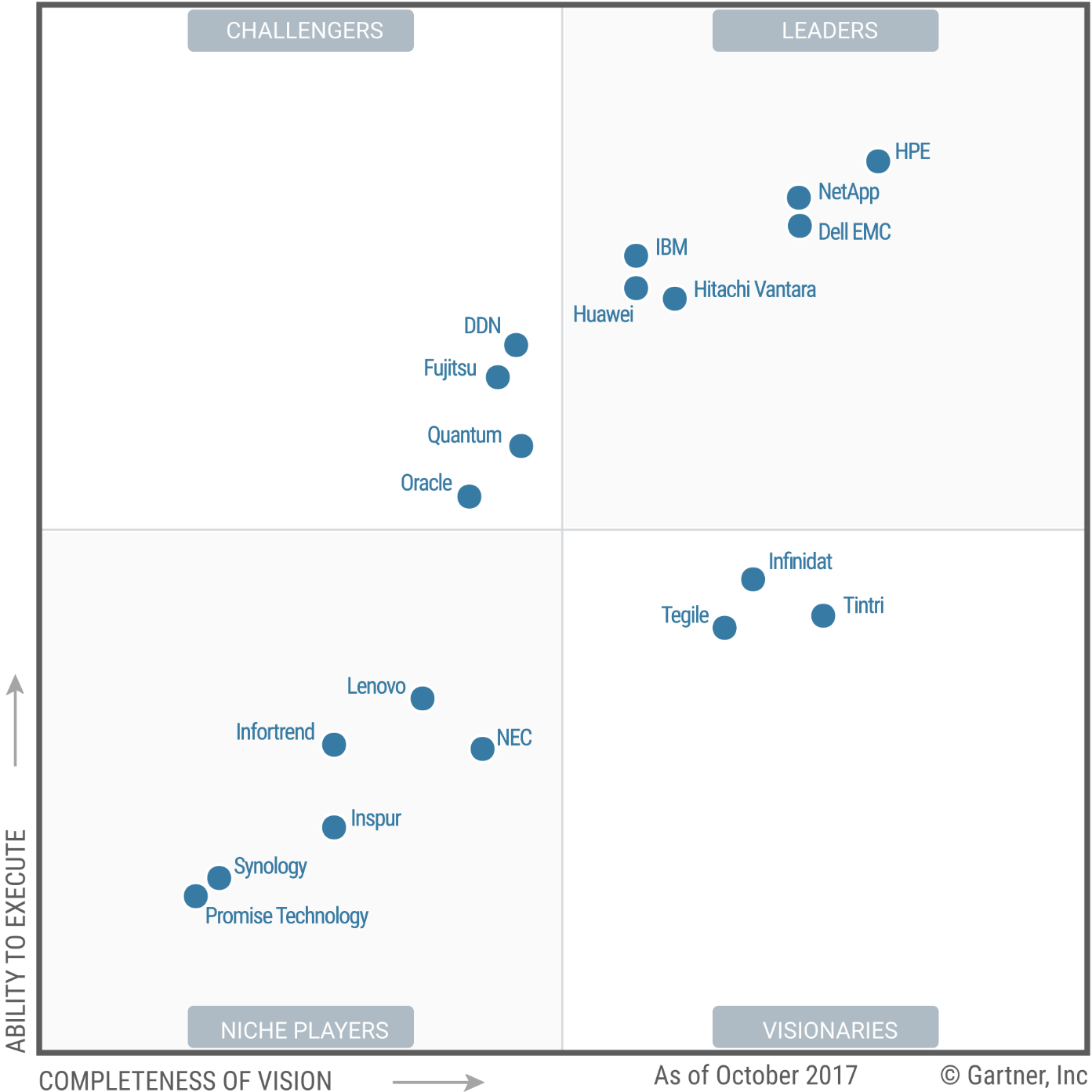 INFINIDAT preuzima softberski pristup koji koristi algoritme strojnog učenja kako bi izvukao vrlo visoke performanse i 7,9999999 pouzdanosti od low-hardvera. Za usporedbu, tradicionalni sustavi za pohranu tvrtke temelje se na skupim flash medijima za performanse. Koristeći zajednički softver kao temelj u cijeloj svojoj proizvodnoj liniji, INFINIDAT nudi rješenja za detaljnije učenje, kontinuirano poslovanje i agilnost cloud-a usmjerenih prema poduzećima koja žele ubrzati digitalnu transformaciju i povećati troškove IT infrastrukture.
INFINIDAT-ovi korisnici su vrlo pozitivni u vezi s njihovim iskustvom i preporučuju INFINIDAT u više slučajeva od korisnika koji koriste Dell EMC ili NetApp (na temelju ocjena zadovoljnih kupaca na Gartner Peer Insight).

"Vrlo smo zahvalni našim klijentima koji prepoznaju ulogu koju pohranjivanje poslovnih podataka igra u omogućavanju digitalne transformacije i konkurentske prednosti. Kao voditelj ove kategorije, nastavit ćemo pružati našim kupcima najsposobnija i najpouzdanija rješenja za pohranu u djeliću troškova drugih rješenja", rekao je Moshe Yanai, izvršni direktor INFINIDATA-a. "Smatramo da ovo priznanaje od strane Gartnera, ojačano snažnim poticajem naših kupaca, pokazuje da uistinu definiramo budućnost multi-petabyte tržište za pohranu."
Gartner, Magic Quadrant za General-Purpose Disk Arrays, Stanley Zaffos, Roger W. Cox, Valdis Filks, Santhosh Rao, 8 Studenog 2018.
*Gartner Magic Quadrant Methodologija.
Za više informacija, kontaktirajte: storage@asbis.com, ili kontaktirajte lokalni ASBIS ured.
O INFINIDAT-u
Founded in 2011 by storage industry pioneer Moshe Yanai, INFINIDAT helps customers unlock the full potential of their data. INFINIDAT's software-focused architecture, an evolution and revolution in data management design over 30 years in the making, solves the conflicting requirements of bigger, faster, and less expensive storage. INFINIDAT technology simultaneously delivers sub-millisecond latency, seven nines of reliability, and hyperscale capacity with a significantly lower total cost of ownership than incumbent storage technologies. For more information, please visit www.infinidat.com.