BUY ONLINE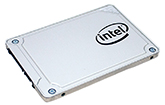 Intel je predstavio prvi u svijetu komercijalno dostupan 64-layer, TLC, 3D NAND solid state drive (SSD). dok drugi pričaju o tome - Intel je to ostvario.
Danas objavljujemo vijest o novom Intel® SSD 545s namjenjen poslovnim korisnicima. Visoko kvlaitetan proizvod namijenjen najširem ržištu donosi izvrsne performanse nanovo doba računalnih tehnologija.
U Intelu postoji predanost prema razvijanju rješenja koja se temelje na Intel tehnologiji kako bi osigurali svojim korisnicima bolje iskustvo u korištenju naših tehnologija. I dalje ulažemo u Intel® 3D NAND tehnologiju i Intel® Optane™ tehnologiju kako bi to osigurali.
Intel je naglasio u mnogim prilikama kako su dosadašnje eksplozije obrada podatkovnih zahtjeva predstavljaju prilike u kojima se može ostvariti veliki pomak. Prilike u prošlosti su bile razvoj velikih i cjenovno prihvatljivih uređaja za pohranu podataka uz naravno dobre performanse. I tu je Intelova TLC, 3D NAND tehnologija došla na svoje. Temeljeno na našem 30 godišnejm iskustvu s memorijskim tehnologijama, optimizirali smo 3D NAND floating gate arhitekturu te proizvodne procese.
Senior vice president and general manager of the Non-Volatile Memory Solutions Group at Intel Corporation
Malo pričajmo o rhitekturi tehnologije ove Intel® 3D NAND tehnologije a koja predstavlja takozvanu " floating gate" arhitekturu koja nam daje najveću gustoću te skalabilnost za budućnost. Ona e temelji na manjoj velićini ćelije te stavljanju kontolnog sklopa ispod memorisjkog polja. Imajući tehnologiju snajboljom gustoćom u svijetu to znaćiu da je možemo povečati na velike kapacitete i osigurati više gigabajta po waferu. Naše iskustvo s dizajniranjem ove arhitekture u SSD rješenje osiguralo nam je veliko poboljšanje performansi, smanjenje potrošnje energije, kostantnost performansi te veču pouzdanost s svakom generacijom.
Dodatno, floating gate tehnologija je proizvedena na dokazanom proizvodnom procesu velikog volumena što nam je pomogućilo ubrzanje prelaska s 2D na 3D, MLC na TLC, te sad s 32-layea na 64-layerski proizvod.
ova nova genracija predstavlja vodstvo u procesu proizvodnje i koja će donjeti migraciju idućeg kruga kupaca s 32 na 64-layerske tehnologije. A također nam šproširuje proizvodni portfolio koji će biti zanimljiv budućim klijentima.
Shvačajući da je obećanje o budućnosti u tome da se približe računalna snaga i podaci za što bolje iskustvo u radu.