KUPITE ONLINE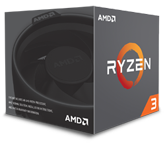 Uđite u svijet The Elder Scrolls Online igre i otkrijte povijest koja je kreirala Morrowind koji poznajemo danas.

VRATITE SE U MORROWIND ZA JEDINSTVENO ISKUSTVO IGRANJA
Novi AMD Ryzen™ 3 procesor koristi AMD SenseMI tehnologiju koja uči i koja se prilagođavakako bi osigurala najbolje iskustvo. Bilo da se borite protive neprijatelja ili izrađujete oružje za svoje prijatelje, dobivate istinske quad-core performanse. Odaberite svoju misiju danas!
Uz AMD Ryzen™ 3 biti će te jedan od onih koji uživaju u istinskom role-playing iskustvu u igri The Elder Scrolls Online: Morrowind.

AMD RYZEN™ 3: PROCESOR NOVE GENERACIJE
AMD Ryzen 3 ima performanse za sve što radite i trebate.
Istinske quad-core performanse
Naoružan novom, inteligentnom arhitekturom, četiri jezgre u AMD Ryzen™ 3 procesoru osiguravaju superiorni multitask performanse po odličnoj cijeni.
Platforma za budućnost
Nova AM4 platforma koristi napredne značajke današnjice te spremno dočekuje one u budućnosti.2
Nezaključan i spreman za Overclocking1
Svaki Ryzen™ procesor ima otključani množitelj frekvencije za koji je spreman za overclocking. Ukoliko se ne osjećate spremnim za usklađivanje postavki, XFR značajka omogućuje pametnom hardwareu da samostalno podiže brzinu kada osjeti da koristite premium procesorsko hlađenje. 3


1. AMD's product warranty does not cover damages caused by overclocking, even when overclocking is enabled via AMD hardware and/or software. GD-26
2. ​Statement of "future-proof" refers to support of current and upcoming technology standards including 14nm FinFET process technology, DirectX®12 and Vulkan™ API support, new I/O technology including DDR4, USB 3​.1 Gen 2, and NVMe, and experiences such as VR. "Future-proof" statement is not meant to serve as a warranty or indicate that users will never have to upgrade their graphics technology again. Support of current and upcoming technology standards described above has the potential to reduce frequency of CPU upgrades for some users. GD-104.
3. AMD defines premium processor cooling as a combination of ambient temperature and thermal solution that results in processor temperatures below 60 degrees Celsius while the CPU is processing the system workload. WTH-5
The Elder Scrolls Online: Morrowind © 2017 Bethesda Softworks LLC, a ZeniMax Media company. Developed in association with Arkane Studios. Prey, Arkane, Bethesda, Bethesda Softworks, Zenimax and related logos are registered trademarks or trademarks of Zenimax Media Inc. In the U.S. and/or other countries. All Rights Reserved. All other trademarks or trade names are the property of their respective owners.
© 2017, Advanced Micro Devices, Inc. All rights reserved. AMD, and the AMD Arrow logo, Ryzen and combinations thereof, are trademarks of Advanced Micro Devices, Inc.