KUPITE ONLINE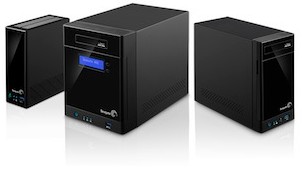 Dostupni NAS uređaji s 2 utora kapacteta 4 TB i 6 TB

Unazad nekoliko tjedana predstavili smo Seagate Business Storage, najnoviju network-attached storage (NAS) proizvodnu liniju namijenjenu malim i srednje velikim tvrtkama (SOHO), udaljenim uredima (RMO) te srednje velikim organizacijama (SMBs) s dostupnim kapacitetom od TB do 16TBs.

Seagate Enables Growth of Small to Medium-Sized Businesses With New Networked Business Storage Solution

Glavne značajke NAS uređaja :
Osigurava cjenovno efikasna rješenja koja rade izvrsno u kombinaciji s postojećim cloud backup i online sharing uslugama. Dizajniran za backup svih PC i Mac računala u organizaciji na jedno centralno mjesto, ovaj novi NAS uređaj uključuje backup software za Windows PC računala a kompatibilan je i s Apple Time Machine® za backup Mac OSX računala;
esencijalno predstavlja privatni online prostor, koji se nalazi na jednoj lokaciji i omogućuje pristup bilo preko Android i iOS aplikacija za mobilne uređaje kao i sigurnu mrežnu vezu s bilo kojim računalom te dolazi s mogučnošću enkriptiranja podataka;
plug-n-play removable storage (USM) značajka - Model s 2 i 4 utroa za tvrde diskove Seagatovog Business Storage segmenta pružaju maksimalnu zaštitu podataka osiguravajući redundantni backup informacija na uređaju. Dodatak Universal Storage Module (USM) utora omogućuje plug-n-play priključivanje eksternih uređaja što osigurava tečnost pri radu kao i mogućnosti backup-a i kad se ne nalazite u uredu.
Trenutno, u ASBIS-u je dobavljivo rješenje s 2 utora za tvrde diskove kapaciteta od 4TB i 6TB, dok će ostali modeli biti dostupni početkom svibnja.