KUPITE ONLINE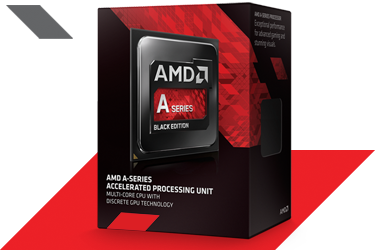 AMD A-Serija APU-ova s AMD Radeon™ R7 grafikom, kodnog imena "Kaveri", dizanirani su uz najnovije industrijske značajke koje osiguravaju superiornu računalnu snagu i igrače performanse. Revolucionarna nova genercija APU označava novo doba računala recenzirana je od strane najznačajnijih IT novirana i časopisa diljem EMEA regije i sa zadovoljstvom Vam prenosimo njihove dojmove i zaključke.
Specifikacija proizvoda
| | | | |
| --- | --- | --- | --- |
| Price7 | $173 USD | $152 USD | $119 USD |
| Power | 95W | 95W | 65W/45W |
| Compute Cores | 12 | 10 | 10 |
| CPU Cores | 4 | 4 | 4 |
| GPU Cores1 | 8 | 6 | 6 |
| Max Turbo Core | 4.0GHz | 3.8GHz | 3.8/3.3GHz |
| Default CPU Frequency | 3.7GHz | 3.4GHz | 3.3/3.1GHz |
| GPU Frequency | 720MHz | 720MHz | 720MHz |
| L2 Cache | 4MB | 4MB | 4MB |

Ključne izjave
Info.ba
AMD showcase Kaveri APU
Prijevod:"AMD je stavio u prodaju AMD A-seriju APUa za 2014. Ovo je je najbolji ikad APU koji je korisnički orjentiran. Kaveri integrira AMD Radeon R7 grafiku s novom revoucionarnom HSA tehologijom."
Tehnokrat.si
AMD uzvrača udarac
Prijevod:"AMD je napravio jedan nevjerojatan potez koji je sve uveo u novu eru. Najjači APU u seriji A10-7850K i A10-7700 će progutat Battlefield 4 bez ikakvih problema. U praksi ovo znači da ovaj procesor vrijedi 50 E više u očima gamera - Istovremeno AMD želi dokazat da je novi procesor dovoljno snažan za igranje najnovijih i najjačih naslova u punom HD pšrikazu na integriranom grafičkom procesoru -nešto što nije bilo moguće još jučer."
ITSvet.com
AMD predstavio APU
Prijevod:"Novi AMD Kaveri APU donosi novu verziju "Bulldozer" CPU arhitekture i istu GPU arhitekturu na premium Radeon karticama."

Digitalonline.rs
AMD Kaveri
English translation:"When it comes to gaming, Kaveri performs on the same level as the $70 and moreexpensive Intel chips, when both paired with the same Radeon R9 270X card. However,if using only integrated graphics, Kaveri is significantly more powerful than Intel'sHaswell."
Benchmark.rs
AMD completely discloses Kaveri desktop APU
English translation:"It should be noted that Kaveri is the first APU using new 28 nm technology and"Steamroller" architecture. It is an evolution of the modular design that was introducedwith Bulldozer and later with Pilledriver. AMD has promised a performance up lift of 10%per core on the same frequency. Steamroller module combines two 64bit x 86 cores."
Insidehw.com
AMD 2014 A-series APU
Original quote:"The AMD A-Series APUs with AMD Radeon R7 graphics, codenamed "Kaveri", aredesigned "with industry-changing new features that deliver superior compute and heartpoundinggaming performance." The A10-7850K and A10-7700K APUs will be bundledwith EA's Battlefield 4, to bring a first class APU gaming experience."
www.benchmark.rs
AMD Kaveri - A10 7850K
English translation:"Finally, there is not much left to say except that AMD has made a great component thatwill almost certainly be greatly accepted on the local market. All users who do not haveextremely high demands and simply want a solution that is power efficient and providesa solid performance in all aspects will, as usual, find happiness with AMD's APU."
HardwareBG.com
AMD officially launched Kaveri APU
English translation:"Starting from today, users from around the world will have the opportunity to purchaseKaveri APU, one of the fastest processors in the world."
Diit.cz
Analysis: AMD releases Kaveri – APU with HSA, Mantle and TrueAudio
English translation: "The main focus is HSA, which will bring performance growth to every application which supports it, which can't be achieved with a random CPU and a discrete GPU. The second key benefit is that AMD has unified APU graphics equipment with high-end desktop graphics."
T3n.de
AMD Kaveri: The best solution for gamers and scrimpers
English translation: "Kaveri makes potent gaming-machines with impressive performance for computers with only a small footprint. Gaming aside, the price and performance are alright – the GPU and CPU become equal parts."
PurePC.pl
Test AMD A10-7850K kdonog imena "Kaveri" s Steamroller i Radeon R7 grafikom
Prijevod: "AMD A10-7850K postigao je pun pogodak u itegraciji grafike i procesora uz HSA standard i poboljšane performanse Steamroller jezgri."
PCMHz.com
AMD Kaveri APU donosi nove značajke
Prijevod: "Jedna od najznačajnijih značajki je radikalna promjena u integraciji procesora i grafike te njihovoj interakciji s sistmskom memorijom zahvaljujući hUMA tehnologiji."
overclockers.ru
Novi procesori Kaveri na AMD-ovoj lisit
Prijevod: "AMD je jučer promijenio svijet uvršatavnjem novog modela u svoju listu proizvoda.Ukoliko je ikad prije postojala sekcija u najdostupnijim procesorima i najboljim - to je sad Kaveri."
Shiftdelete.net
Kaveri APU-i dolaze !
Prijevod: " Kaveri, koji će biti nova perjanica u AMD-ovom revoulcionarnom segmentu APU serije, cilja na gamere i na najviši nivo. Ovo je početak novog doba."
hi-Tech
Presentation AMD Kaveri - novi, najbrži hibrid procesora iz AMD-a
Prijevod: 28 "AMD Kaveri je najnapredniji i najbži hibridni procesor koji je ikad proizveden od AMD-a."
Nagrade