AMD A-Series Accelerated Processing Units vam donose esencijalni spektar videa, zabave i korisničkih aplikacija.

AMD A8-3870K: Unlocked to go Even Further
Predodredjen za jednog od najprilagodljivijih proizvoda na tržištu, otključani AMD A8-3870K Black Edition nudi korisnicima posve novu razinu gamerskog iskustva uz vrhunske performanse.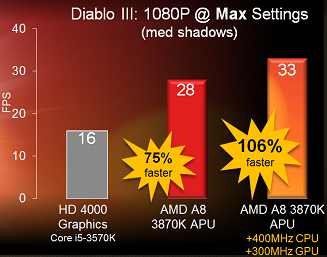 Nijedna platforma vam ne može ponuditi toliko zabave za tako malo novca kao AMD A-Serija APU s AMD Radeon grafikom.
Generaciju za generacijom, AMD se dokazuje kao lider u grafičkoj industriji s kojim se konkurencija ne može mjeriti, ne po ovim cijenama. AMD A-Serija postavlja nove standarde zabave kod svojih korisnika i onih koji će to tek postati...
Za sva pitanja nas slobodno kontaktirajte na prodaja@asbis.hr
ASBIS tim.