KUPITE ONLINE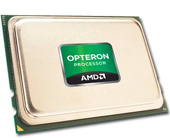 AMD (NYSE: AMD) je danas otkrio potpuno novu seriju AMD Opteron™ 6300 procesora za servere baziranih na sljedecoj generaciji 'Piledriver' arhitekture. Superiorne performanse i skalabilnost za server platforme u big data sistemima i HPC clusterima. AMD Opteron 6300 serija donosi ultimativan balans performansi i smanjenih troškova za manji TCO (total cost of ownership).
Serveri od Della i HP-a baziranih na AMD Opteron 6300 procesorima će biti dostupni krajem godine. Sistemi platforme su danas dostupne od Cray, SGI, Supermicro, AMAX, Appro, ASUS, ClusterVision, Colfax International, MEGWARE Computer, Microway, Penguin Computing, Silicon Mechanics i ZT Systems. AMD " Roadrunner " platforma ce biti dostupna u prvom kvartalu 2013.godine.
Ključne karakteristike, performanse i tehnički detalji
Frequency: Up to 3.5 GHz base frequency and up to 3.8 GHz using AMD Turbo CORE technology for increased performance when applications demand it;
Up to 16 cores per socket for scaling in thread-intensive environments;
AMD-P power management features maximize performance-per-watt across workloads while giving IT managers more control over their data center power profiles;
AMD Virtualization™ (AMD-V™) technology for near-native performance in virtualized environments and lowest cost per virtual machine (VM);
Up to four memory channels with up to 1866 MHz memory;
The only x86 processor to support ultralow voltage 1.25v memory;
Supports up to 12 DIMMs per CPU for up to 384GB memory per processor;
Up to four x16 HyperTransport™ technology (HT3) links at up to 6.4GT/s per link.
AMD Opteron™ 6300 Series Processors
6386 S
16
2.8 GHz
3.5 GHz
140W
6380
16
2.5 GHz
3.4 GHz
115W
6378
16
2.4 GHz
3.3 GHz
115W
6376
16
2.3 GHz
3.3 GHz
115W
6348
12
2.8 GHz
3.4 GHz
115W
6344
12
2.6 GHz
3.2 GHz
115W
6328
8
3.2 GHz
3.8 GHz
115W
6320
8
2.8 GHz
3.3 GHz
115W
6308
4
3.5 GHz
N/A
115W
Detaljni izvještaj možete naći na www.amd.com/opteronperformance; službeno lansiranje AMD Opteron™ 4300 i 3300 serije će biti u prosincu ove godine.
Za sve detaljne informacije nas kontaktirajte na prodaja@asbis.hr