BUY ONLINE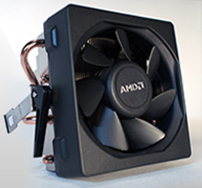 upravno je psotalo još povoljnije i lakše napraviti visoko performansno gaming računalo za online i eSports gaming koje je tiše i hladnije nego prethodnici. Danas je AMD predstavio novo termalno rješenje, uključujući i vodeći AMD Wraith Cooler hladnjak, novi AMD A10-7860K i AMD Athlon™ X4 845 stolne procesore .
Nova termalna rješenja
AMD je primjetio zabrinutost i porast upita oko hladnjaka, te smo odlučili napraviti korak više pri odluci o odabiru procesora. Skoro bešumno? Nema problema. AMD sada nudi dva nova rješenja koji stvaraju buku od jedne desetine prijašnjih hladnjaka, generirajući buku od svega 39 decibela.i,ii
AMD Wraith Cooler kombiniraju nisku razinu buke koju stvaraju uz privlačan, osvijetljen stil za one koji vjeruju da stolno računalo ne bi trebalo biti samo tiho i jako već i lijepo izgledati. Wraith se sada isporučuje uz AMD FX™ 8370 CPU.
Kao dodatak Wraith Cooler, AMD je predstavio novu Near-Silent AMD 95W termalno rješenje koje također nudi skoro bešuman rad ali bez dodatnog osvijetljenja. ovi hladnjaci uključeni su u paketu s AMD desktop procesorima, uključujući i novi AMD A10-7860K te AMD Athlon™ X4 845 modele kao i AMD A8-7670K, A8-7650K te modele Athlon™ X4 870K i 860K.
Uključen s

FX 8370 CPU

NEW AMD A10-7860K
AMD A8-7670K
AMD A8-7650K
AMD Athlon™ X4 870K
AMD Athlon™ X4 860K
AMD Athlon™ X4 845

Near Silent Operation

Yes

Yes

Fan Shroud with LED Logo

Yes

-
Novi AMD A10-7860K
Uz quad-core procesor pri 4 GHz max turbo brzini rada, punu FreeSync™ podršku te interiranu Radeon™ R7 grafiku, A10-7860K donosi superiorne vizualne performanse koje će nadjačati vaše oponenete u popularnim igrama poput Dota 2™, League of Legends® te CS®:Go.
Plus, uz 65W TDP (Thermal Design Power) A10-7860K savršeno odgovara malim konzolama te uz naš novi, skoro pa bešumno termalno rješenje - savršeno odgovara vašim mirnim sobama.
AMD Athlon™ X4 845 Desktop Procesor
AMD Athlon™ X4 845 procesor donosi visoke performanse četiri "Excavator" jezgre. S 3.8 GHz max turbo brzinom rada, idalan je temelj vašim eSports i mainstream gaming računalima.
Također je opremljen s AMDovim najnovijim 95W termalnim rješenjem, Athlon™ X4 845 ostat će hladan i tih tijekom cijelog dana igranja.
Ovi novi modeli sada su dostupni za nabavu!
i Subject to use according to product specifications. The AMD Wraith cooler has a maximum noise level of 39dbA. The AMD D3 cooler, which the Wraith Cooler has replaced on certain CPUs, has a maximum noise level of 51 dbA. In the logarithmic dbA scale, a ten decibel difference is equal to ten times the amount of noise, so the AMD Wraith Cooler generates less than one tenth the noise of its predecessor. WTH-1
ii The AMD 95W Thermal Solution has a maximum noise level of 36dbA. The AMD D2 cooler, which the AMD 95W Thermal Solution has replaced on certain CPUs, has a maximum noise level of 52 dbA.In the logarithmic dbA scale, a ten decibel difference is equal to ten times the amount of noise, so the AMD 95W Thermal Solution generates less than one tenth the noise of its predecessor. WTH-4