Xeon E-2300 platforma posjeduje 100W TDP and is value-based jer cilja na servere i radne stanice nižeg nivoa a koji zahtjevaju pouzdanost i sigurnost kod poslovnih operacija.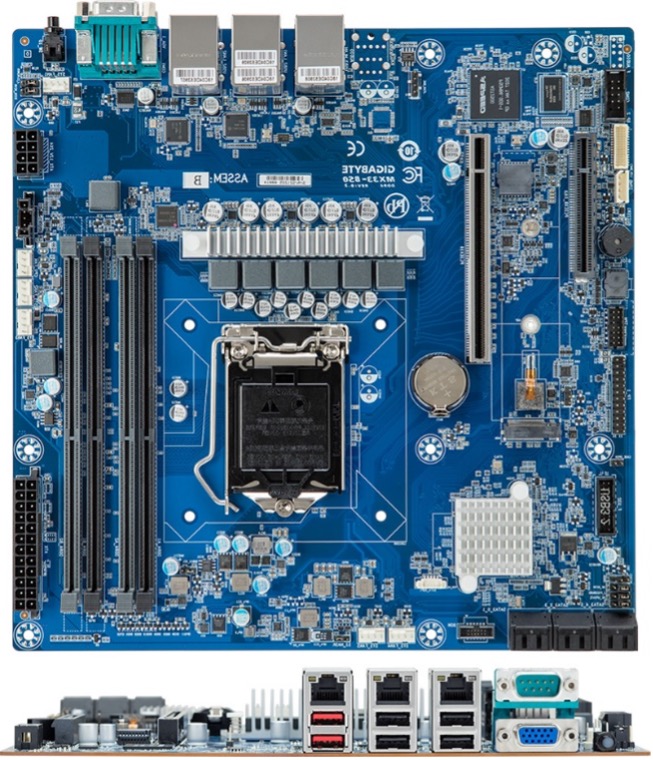 MX33-BS0
Dizajnirana za korištenje s jednim procesorom kao ulana serverska / workstation matična ploča, MX33-BS0 podržava brzo PCIe Gen 4 propusnot s Intel Xeon E-2300 procesorom.Dodatno, C250 serija chipseta podržava Pentium procesore, ali samo kod PCIe Gen 3.0. Doljnja tablica daje ključna pojašnjenja za korišptenje kod određene platforme.
| | | |
| --- | --- | --- |
| Processor | Intel Xeon E-2300 | Intel Pentium |
| Cores | Up to 8 | 2 |
| Supported Memory | DDR4 3200 | DDR4 2666 |
| PCIe Lanes | 20 x PCIe 4.0 | 16 x PCIe 3.0 |
| DMI | DMI 3.0 x8 | DMI 3.0 x4 |
| Intel SGX | Yes | No |
S obzirom na microATX form faktor, MX33-BS0 još uvijek posjeduje sve značajke koje bi očekivali od entry-level platforme. Matična ploča može podržati do 95W procesore te posjeduje 4 DIMM utore koji podržavaju 2 DPC za dual-channel memorisjke module, te jedan PCIe Gen4 x 16 utor za akceleratore od 20 linija PCIe 4 od procesora. Također, posjeduje i jedan x8 utor koji koristi PCIe Gen4 x4 fza dodatne kartice. Za potrebe pohrane, postoji 6 x SATA III priključka kao i 1 x M.2 (PCIe Gen3 x4) utor. Za podršku upravljanju , ASPEED AST2500 se može koristiti za impelentaciju GIGABYTE Management Console kao i kontrole s udaljene lokacije. Na I/O panelu nalaze se 2 x 1GbE priključka, 2 x USB 3.2 Gen2, 4 x USB 2.0, VGA, COM priključak kao i MLAN priključak.
Remote i Multiple Server Management sustav
Kao dio GIGABYTE ove dodatne vrijednosti, GIGABYTE server proizvodi dolaze s predinstaliranim GIGABYTE Management Console podrškom za upravljanje serverom putem web preglednika. Dodatno, GIGABYTE Server Management (GSM) softver je besplatan za preuzimanje i može biti korišten za nadzori upravljanje grupom servera. GIGABYTE Management Console i GSM nude dodatnu vrijednost smanjujući troškove licenci kao i održavanja.