Logitech G, brend Logitecha i vodeći inovator tehnologije i gaming opreme, predstavio je bežične slušalice Logitech G PRO X LIGHTSPEED. Ove nove PRO slušalice donose pro-grade LIGHTSPEED bežičnu tehnologiju s nagrađivanim dizajnom koji je izrađen u skladu sa strogim specifikacijama elitnih svjetskih stručnjaka.
"Obožavam svoje PRO X slušalice. Jedino što bih volio je bežična podrška", rekao je Soren" Bjergsen "Bjerg, League of Legends, TSM. "Pa, sada to više ne moram željeti!"
Nastale na temelju nagrađivanog PRO X gaming bežičnog seta, PRO X bežične slušalice odlikuju se visokokvalitetnim materijalima, naprednom komunikacijom, preciznim zvukom i potpunom slobodom bežične mreže. PRO X LIGHTSPEED bežične gaming slušalice od sada dolaze s bežičnom LIGHTSPEED vezom od 2,4 GHz, kojom omougućuje više od 20 sati trajanja baterije i 42 metra dometa.
"PRO X bežične gaming slušalice važan su dodatak našoj liniji profesionalnih gaming slušalica", rekao je Chris Pate, menadžer portfelja Logitech G PRO linije. "PRO X bežične slušalice pružaju profesionalcima i ambicioznim sportašima sve potrebne vrhunske performanse, komunikaciju i udobnost, bez ikakvih žica ili ograničenja."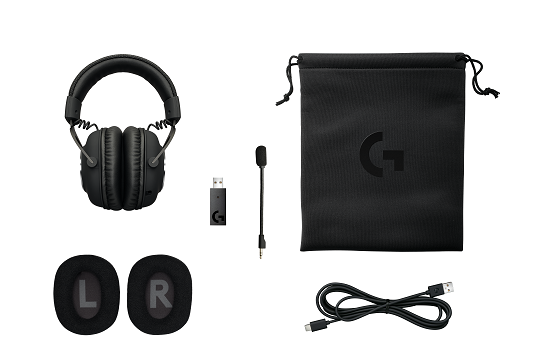 Uz to, nove slušalice sadrže napredni Blue VO! CE softver za nevjerojatnu jasnoću glasa i visokokvalitetnu komunikaciju tijekom igre ili streaminga, PRO-G 50 mm drive za oštar profesionalni zvuk, DTS 7.1 surround zvuk i udobne jastučiće od memorijske pjene s laganim dizajnom koji pružaju sate udobnosti za duge treninge ili natjecanja.
Ključne značajke
Nagrađivani PRO Dizajn: Dizajn nastao u suradnji s profesionalcima. Visokokvalitetni materijali, napredna komunikacija, precizan zvuk.
LIGHTSPEED Wireless: Bežično povezivanje do 20 sati uz jedno punjenje i čvrst i bežični priključak koji funkcionira na udaljenosti od 13 m.
Softver Blue VO! CE: Paket naprednih mikrofonskih filtera koji funkcionira uz pomoć Logitech G HUB-a
PRO-G 50mm dizajn: Napredni PRO-G ™ drive s jedinstvenom hibridnom mrežom pruža snažno, kristalno čisto i precizno snimanje zvuka.
Vrhunska udobnost: Udobne za nošenje satima, a istovremeno nudi visoku izdržljivost i izolaciju buke te napravljene od vrhunske kože s jastučićima od memorijske pjene.

Dostupnost

Logitech G PRO X Wireless LIGHTSPEED Gaming slušalice dostupne su za kupovinu od kolovoza ove godine.

Saznajte više OVDJE.

Za sve informacije i upite, kontaktirajte Vašeg ASBIS prodajnog predstavnika.