KUPITE ONLINE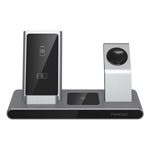 ReVolt A9
U našem modernom i brzom životnom ritmu - brzo i lako punjenje naših prijenosnih uređaja postalo je iznimno značajnao. Prestigio Vam predstavlja ReVolt A7, stanicu za bežićno punjenje Vaših mobilnih uređaja.
Sada uz samo jedan uređaj možete napuniti iPhone, Apple Watch sat te AirPods slušalice od jednom. Prestigio stanica radi s svim uređajima koji podržavaju Qi bežičan standard punjenja.
ReVolt A7 optimizira vaš radni ili kućni prostor pomažući vam da smanjite broj punjača i kablova te oslobodite svoje utičnice za druge uređaje. LED svijetla signaliziraju stanje napunjenosti kada je uređaj pun. Revolt A7 može puniti uređaje čak i kada imaju zaštite od 4mm debljine.
Nova stanica za punjenje Prestigio je i više nego spremna na sve ozazove. Sada možete puniti svoj mobilni uređaj i kada je u radut te ga okrenuti vertiklano ili horizontalno te više ne morate prestati gledati fil dok se vaš mobilni uređaj puni.
Stilski oblikovan, funkcionalan bez potrebe održavanja učinit će Revolt A7 esencijalnim svakome tko cijeni vlastiti komfor i vrijeme.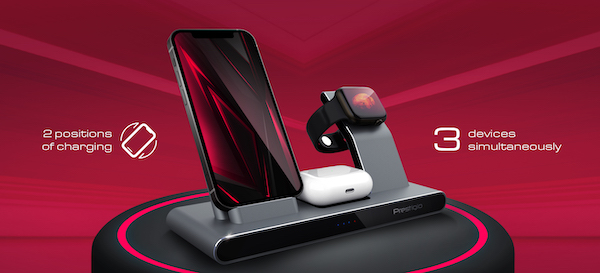 O tvrtki Prestigio
Prestigio je svjetski proizvođač koji nudi široki spektar konzumne elektronike za kućnu,poslovnu ili edukativnu upotrebu te posluje na međunarodnom tržištu više od 20 godina. Tvrtka prodaje svoje proizvode u više od 30 zemalja s preko 25 milijuna prodanih uređaja tijekom postojanja.

Proizvodni segment uključuje pametne uređaje i pribor, inovativna rješenja za poslovne potrebe ili edukaciju. Prestigio je predstavio prvu interaktivnu tipkovnicu s tipkama osjetljivim na dodir kao i pametne zvučnike, prijenosne zvučne sustave , bežične punjače, prijenosne punjače s grafen tehnologijom baterija i sve to predstavlja početak. Slogan kompanije za stavljanje novih proizvoda na tržište je 'The art of hi-tech', te je posebna pažnja dana inovativnosti, korištenju najkvalitetnijih materijala i moderne tehnologije.

Tvrtka Prestigio u vlasništvu je ASBISC Enterprises Plc., jednog od vodećeh svjetskih IT distributera na tržištima EMEA regije. Posjeduje vlastite dizajnerska, proizvodna i tehnička postrojenja u Europi, Kini i Bjelorusiji. Prestigio posjeduje 15 ureda u raznim regijama uključujući CIS, Ukrajnu, Europu, Bliski istok i Afriku.