Western Digital je najavio nova rješenja koja pružaju temelje za podatkovnu infrastrukturu sljedeće generacije dizajnirane oko Ultrastar NVMe ™ SSD-ova i nadopunjene NVMe-oF ™. Nadovezujući se na inovativan dizajn i integracijske mogućnosti tvrtke - od NAND Flash-a do platformi za pohranu - novi dual-port, Ultrastar DC SN840 NVMe SSD diskovi i interni RapidFlex NVMe-oF kontroleri, samostalna su rješenja u kombiniranju stvaranja nove OpenFlex Data24 NVMe -oF storage platforme, novo spremište JBOF (Just a Bunch of Flash), koje proširuje vrijednost NVMe-a na više hostova preko Ethernet mreže s malim kašnjenjem. Ova nova rješenja dodatno proširuju portfelj podatkovnih centara tvrtke Western Digital kako bi pomogla kupcima da prijeđu na NVMe SSD-ove veće učinkovitosti i naprednije zajedničke arhitekture pohrane, kako bi udovoljili novim zahtjevima aplikacija i radnih opterećenja zasnovanih na performansama.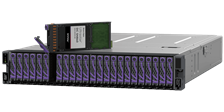 Ključne značajke:
Velika gustoća - do 368TB u 2U
Niska latencija
Uravnotežena širina pojasa između SSD-ova i mreže
RESTful API podrška za upravljanje
Velika dostupnost s dvostrukim IO modulima
3x Western Digital RDMA omogućeni NVMe-oF adapteri po IOM-u - Do šest 100GbE priključaka s dvostrukim IOM-om punih performansi
Vodeće 5-godišnje jamstvo u industriji
24 SSD-a visokih performansi s dva priključka - Sljedeća generacija SN840
Širok raspon NVMe SSD kapaciteta i mogućnosti izdržljivosti
SN840: 1 DWPD: do 15360 GB
SN840: 3 DWPD: do 6400 GB
Visoka dostupnost s dvostrukim IOM-om
| | | | |
| --- | --- | --- | --- |
| Up to 24 Ultrastar® DC SN840 NVMe SSDs | | Up to 6 RapidFlex™ NVMe-oF Network Adapters | |
Glavna prednost NVMe-oF-a: podržava znatno veća radna opterećenja visokih performansi: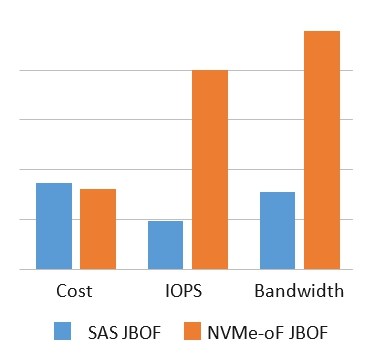 Omogućuje serverima dijeljenje NVMe flash pohrane kao da je lokalna
Pruža vodeće mogućnosti povezivanja u industriji koristeći 100Gb Ethernet
Razdvaja NVMe pohranu radi otvorenog sastavljanja

Moguće opcije primjene novog proizvoda: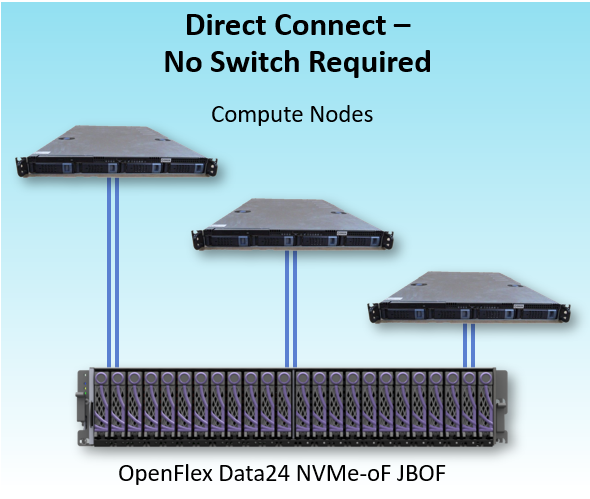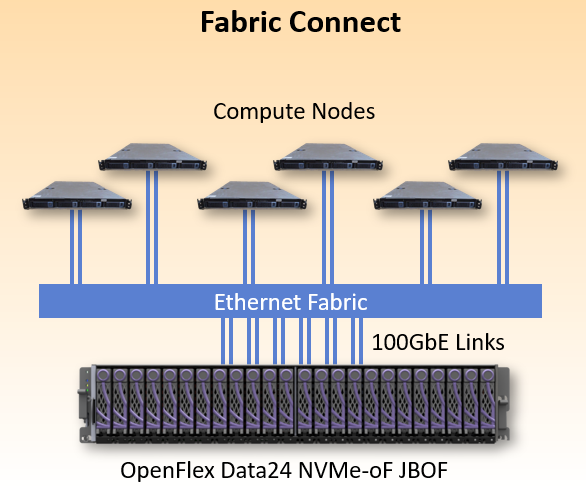 Saznajte više ovdje.
Prezentaciju možete preuzeti ovdje.