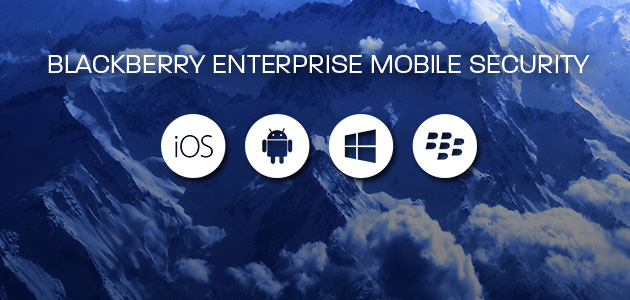 Osigurajte svoje poslovanje kako bi ostali kompetitivni uz stalni rast poslovanja
Osigurajte svoje poslovanje kako bi ostali kompetitivni uz stalni rast poslovanja
BlackBerry nudi profesionalna rješenja za mobilnu sigurnost vaših uređaja uz superiornu produktivnost, ultimativnu sigurnost i djelotvornu komunikaciju.
Ključna vertikalna tržišta koja treba obratit pažnju uz BlackBerry rješenja
Vlada
Financije
Uslužni sektor
Velike i srednje tvrtke
Ključne prednosti
BlackBerry je sigurnosna mobilna aplikacijska platforma uz čiju pouzdanost i sigurnost možete unaprijeđivati svoje poslovanje uz veliku mobilnost .
NAJBOLJI ROI U KLASI: Naša mobilna rješenja, alikacije i ekosustav donose višu vrijednost nego konkurencija
NAJBOLJA SIGURNOST U KLASI: Zaštitite se uz najbolji end-to-end sigurnosni sustav i osobnu privatnost
NAJBOLJA APLIKACIJA U KLASI: Najširi portfolio u industriji i povezanim sustavima osiguravaju najveću produktivnost i ROI
NAJBOLJA U MDM/EMM KLASI: Potpuna podrška MDM/MAM uključujući i DEP, PKI, AfW, KNOX
NAJBOLJA U NETWORK KLASI: Globalna podrška i umreženost na koju se možete osloniti
Secure Mobile Productivity & Management tehnologija upravljanja
Ključni temelji BlackBerry rješenja
BES12 Multi-OS MDM
IT manageri moraju osigurati da mobilni uređaji odgovaraju specifičnim zahtjevima IT politike tvrtke i da je konfiguracija moguća prema uređajima. Ipak, ne kao kod klasičnog upravljanja PC računalima, mobilna okruženja su visoko heterogena. BlackBerry Mobile Device Management (MDM) osiguravaju kontrolu i vidljivost koju IT treba uz fleksibilnost podrške prema svim uređajima, vrsti vlasništva i slučajevima upotrebe .
Good Work
Make your mobile workforce more productive, while keeping your company's data secure – no matter who owns the device. Good Work™, built on the Good Dynamics platform, is a better way to mobilize your business, with capabilities not otherwise found in native email, calendar and contacts.
WatchDox
WatchDox® od BlackBerrya kreira produktivniju i umreženiju radnu okolinu. Centralizirajući, mobilizirajući i osiguravajući sadržaj kojem korisnik može pouzdano i sigurno pristupati, dijeliti i surađivati na i najosjetljivijim podacima, na svim uređajima i preko svih sućelja. BlackBerry pruža najsigurnije mobilno rješenje na svijetu koje odgovara sve većim svjetskim zahtjevima, uz podršku za Mac OS® X, Windows® PC, Android®, iOS i BlackBerry® 10 uređaje.
BlackBerry Good Secure paketi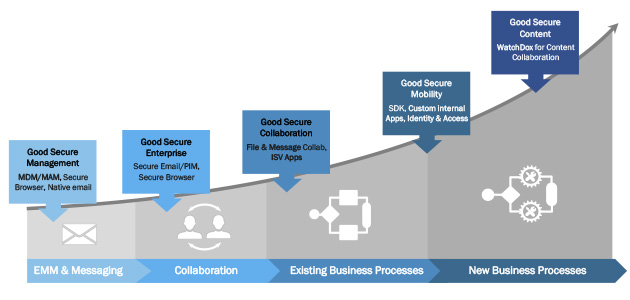 Good Secure Management Suite
It is a single mobile device management (MDM) solution that supports a wide range of technologies and a growing set of wearable devices and ownership models

iOS, Android, Win10,Android for Work, BB10 Balance, Samsung KNOX Standard

Good Secure Enterprise Suite
It is a complete, easy to deploy core enterprise mobility management (EMM) package for securing devices and empowering business users
Good Secure Collaboration Suite
It includes the widest range of secure collaboration apps and supports unlimited deployment of any of the leading 3rd-party ISV apps secured by Good

iOS, Android, Win10,Android for Work, BB10 Balance, Samsung KNOX Workspace

Good Secure Mobility Suite
It offers a layered security solution that protects at every level: apps, data, and devices
Good Secure Content Suite
It provides a complete and integrated platform for managing devices, apps, content and files in a world of pervasive mobility and cloud services
| | | | | | |
| --- | --- | --- | --- | --- | --- |
| Enterprise Mobility Management | | | | | |
| Mobile device management (MDM) | + | + | + | + | + |
| Jailbreak/root detection | + | + | + | + | + |
| Unlimited devices per user | + | + | + | + | + |
| Mobile application management (MAM) | + | + | + | + | + |
| Mobile content management (MCM) | | | + | + | + |
| Secure Business Productivity | | | | | |
| Email, calendar and contacts | | + | + | + | + |
| Corporate intranet access and web browsing | + | + | + | + | + |
| Instant messaging | | | + | + | + |
| Office document editing | | | + | + | + |
| SharePoint/OneDrive/File Share access | | | + | + | + |
| Apps and App Distribution | | | | | |
| Unified launcher to access all apps | + | + | + | + | + |
| Good-secured ISV app ecosystem | | | + | + | + |
| Good-secured custom app development | | | | + | + |
| Security and Deployment | | | | | |
| FIPS 140-2 validated cryptography | + | + | + | + | + |
| Common Criteria EAL+4, UK CESG, ASD EPL, DoD STIG | | + | + | + | + |
| IAM and 2-Factor authentication | + | + | + | + | + |
| Active Directory integration | + | + | + | + | + |
| Cloud-hosted and on premise deployment | + | + | + | + | + |
| Secure Documents | | | | | |
| Enterprise File Sync and Share (EFSS) | | | | | + |
| Integrated Rights Management (DRM) | | | | | + |
BlackBerry Software Platforma