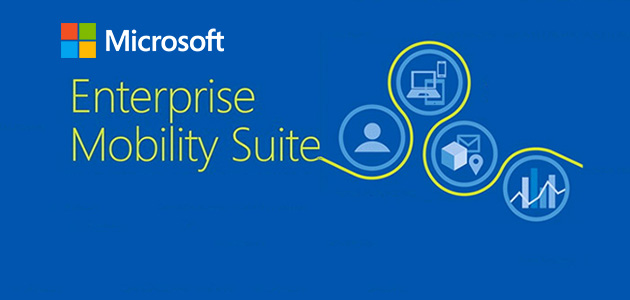 Microsoft Enterprise Mobility paket rješenja
Držite vaše zaposlenike produktivnim na njihovim omiljenim aplikacijama i uređajima a vaše podatke zaštićenim uz paket rješenja "Enterprise mobility solutions".
Ključna tržišta
Banke
Proizvodnja
Osiguranje
Retails i konzumni proizvodi
Telekomunikacije
Turizam & Putovanja

Zdravstvo
Znanost
Vlada
Javna sigurnost
Ključne prednosti
1000 aplikacija, 1 indentitet: Jdna prijava za tisuće popularnih SaaS aplikacija poput Salesforce, Concur i Workday. Alati za samozaposlene koji štede novac.
Upravljanje iOS, Android, Windows operativnim sustavima— s jednog mjesta: Budite spremni za bilo što što zaposlenik donese na posao te upravljajte njihovim mobilnim uređajem i Windows 10 uređajima putem jedne konzole
Zadržite posao na poslu: pomozite zaposlenicima da buud produktivniji te da drže osobne i korporativne aplikacije i podatke zasebno
Sigurnost korporativnog standarda i za vašu tvtku: Enkriptirajte važne podatke i zapise kako bi osigurali da samo odabrani imaju pravo pristupa. Identificirajte stalne prijetnje prije nego stvore štetu vašoj organizaciji.
Komponente "Enterprise Mobility Suite" paketa
Azure Active Directory Premium

Self-service password reset to reduce helpdesk calls
Multi-factor authentication options for greater security
Group-based provisioning and single sign-on for thousands of SaaS apps
Machine learning-driven security reports for visibility and threat management
Robust sync capabilities across cloud and on-premises directories

Microsoft Intune

Mobile application management across devices
Broad device support for iOS, Android, Windows and Windows Phone devices
Selective wipe of apps and data for greater security
Use of System Center Configuration Manager and Endpoint Protection

Azure Rights Management

Information protection from the cloud or in a hybrid model with your existing on-premises infrastructure
Integration into your native applications with an easy-to-use SDK
Windows Server Active Directory Rights Management Server CAL use rights

Microsoft Advanced Threat Analytics

Behavioral analytics for advanced threat detection
Detection for known malicious attacks and security issues
Simple, actionable feed for the suspicious activity alerts and the recommendations
Integration with your existing Security Information and Event Management (SIEM) systems

Windows Server CAL

Windows Server CAL use rights
5 razloga da odaberete Microsoft Enterprise Mobility Suite
1. Bolje štiti Office: Jedino rješenje koje je dizajnirano da štiti vaš Microsoft Office email, podatke i aplikacije.
2. Štedi novac: Do 50% manji trošak u podnosu na druge proizvođače.
3. Radi: jednostavno ga je postaviti, uvijek je u korak s najnovijim dostignućima
4. Još je sigurniji : Sigurnost je naša jezgra poslovanja. pomažemo Vam da identificirate sigurnosne propuste prije nego stvore štetu.
5. Svuda primjenjiv: EMS štit iOS, Android, Windows, Windows 10, i preko 2,500 popularnih SaaS aplikacija.